Swagbucks Review 2020 – Earn Money When You Shop
Over the last few years, several platforms emerged with an idea of offering cash backs, rewards and points to consumers along with other perks. However, choosing the right platform always plays a big role in adding more free dollars in your pocket.
To help you with that, we review Swagbucks – which is offering cash backs along with free money for using their platform for playing games, watching videos and so on.
What is Swagbucks?
The trend of online shopping has been increasing at a robust pace over the past few years. Swagbucks have been offering the opportunity for online consumers to earn cash back and points on everything they purchase online. Swagbucks offers one of the biggest cashback rates. They allow users to earn money in plenty of ways besides from online shopping. Swagbucks works like a search browser. When you browse games, videos or other things, Swagbucks gives you money for that. The user is eligible to withdraw money once their account balance reaches $25.
Swagbucks was established in 2010. It has paid more than $500 million in cash and free gift cards to its users. The user can use this platform both on the web and mobile app.
What are the Pros and Cons of Swagbucks?
Swagbucks Pros:
✅100% free to join
✅$10 sign up bonus
✅Variety of ways to earn
✅Big cash backs
✅Earning through surveys, videos, and browsing
✅Limited-time offers with up to 20% cash back
Swagbucks Cons:
❌ Only available in certain countries
❌ Qualification required for survey
❌ Slow customer service
How does Swagbucks Work?
Swagbucks is completely free for users. They are working on the strategy of attracting users to their platform by rewarding them with money for everything they do on this platform. They have developed a simple and user-friendly website and mobile app. The user can easily review all the information related to cash backs and points.
Once you created an account, the platform will create a dashboard for you – which helps in reviewing your cash and points. The points are known as SB's. Each point is equal to one penny. They offer cash back and coupons on shopping while points on using their platform for browsing, watching videos, playing games and so on.
Points can also be redeemed for cash at a rate of one penny per point, which is deposited into your PayPal account.
The U.S. based Swagbucks.com is owned by Prodege, which also operates one of the most popular site MyPoints. This company has received an A- rating from the Better Business Bureau with a Trustpilot score of an 8.4.
What is the Signup Process of Swagbucks?
Unlike robo advisors and P2P platforms, the account creation process of these shopping and earnings platforms is easy. They do not require personal information along with other details. The users can easily signup with the help of email, phone number, and password.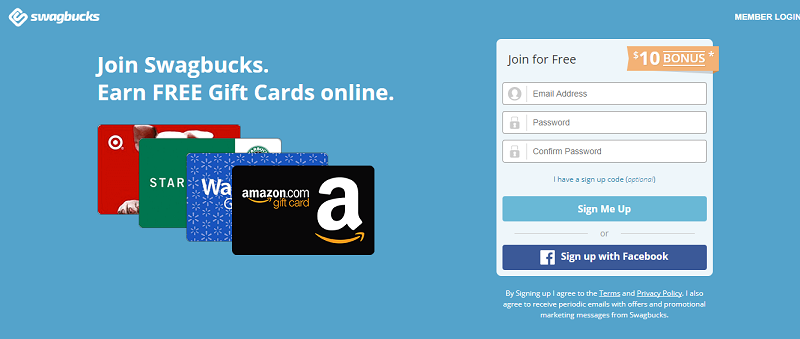 The user is required to visit their website for account setup. They offer a signup option on the home page. Indeed, the platform offers a $10 bonus on signup. You are only required to provide an email address and valid password for signup. Once you are done with the signup, they will send you a verification link on your email address. The user is required to click on that link for verification purpose.
The platform also permits users to sign up with the help of Facebook account. Swagbucks is only available for a few countries. Therefore, make sure to check the eligibility criteria before the signup. Once you are done with sign up, you will get a large variety of opportunities to earn SB, rewards and cash backs.
What Earnings Opportunities does Swagbucks Offers?
Swagbucks offers numerous earnings opportunities to users. They offer a signup bonus of $10. They also offer another bonus if you spend $25 using this platform within the 30 days after the account setup. Below are the ways of receiving cash back, getting bonuses and earning money.
Swagbucks Survey
Swagbucks survey is one of the most enticing features of this platform. They allow companies and other institutions to conduct a survey through their platform. On the other hand, they pay money to users for taking part in these surveys. When you take a part in a paid survey, companies pay Swagbucks for a survey, and Swagbucks distributes the money among users who take part in surveys.
Swagbucks takes your information such as age, interests, income, etc. They use this information to offer you surveys that match with your thinking and way of living.
In order to get the best results of the survey, the platform will ask you few prequalification questions. If your answers match with the survey requirement, you will be qualified to take part in a survey. There's also a chance you'll be disqualified. If you disqualified from taking part in the survey than you are not eligible to get any reward or points. Below are the three main survey options:
Everyday surveys
Daily survey
Daily poll.
If you have completed your profile with all the required information, the platform will easily provide surveys that perfectly match with your lifestyle. Every day, you can expect to get an opportunity to take part in various surveys. This means that you are required to spend less time answering pre-survey questions.
Daily polls could provide you 1 SB as they only involve answering 1 question. Other survey payouts stand in the range of 1 SB to 100 according to the number of questions.
For the most part, these surveys are pretty easy and you can do them while you're riding the metro, watching television or standing at the bus stop.
Swagbucks Cash Back
Swagbucks offers cash backs and rewards to users who shop through Swagbucks. The user is only required to login into the platform and does shopping in Swagbucks partner stores. It is a partner with more than  1,500 stores. These stores include online shops, popular apparel brands, restaurants and so on. Below are the few popular brands that are supported on this platform.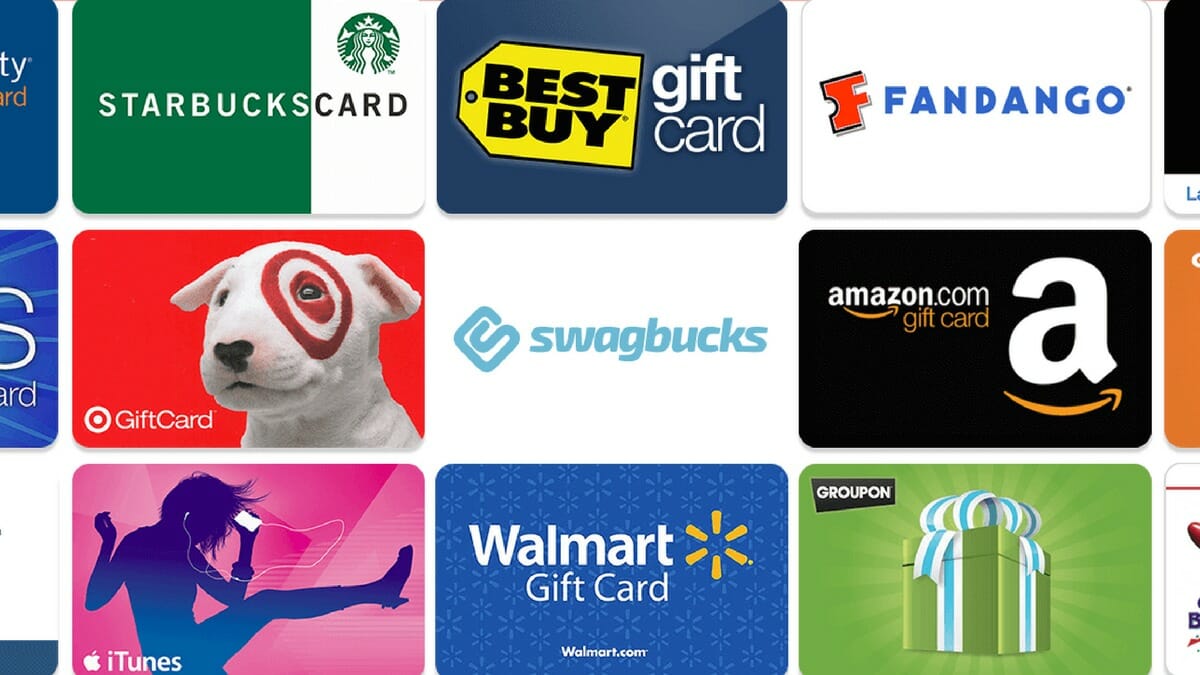 Starbucks
Groupon
Amazon
Kohl.
They allow its user to earn up to 20% cash back on every dollar they spend. The average cash back range stands around 5% to 10%. For instance, Amazon's 5% cash back deal means the user will get 5 SB for every $1 when they purchase something through a Swagbucks link. The platform also offers coupons for local retailers. In addition, Swagbucks offers users to get multiplier deals for specific retailers. For instance, if the retailer offers 2% cash back, but has a 10x deal, the user will receive 20% cash back or 20 SB for every dollar.
Swagbucks Web Browser
Swagbucks has developed its search engine – which is powered by Yahoo. They offer money when you use their browser for searching. This is one of the simplest ways you can earn SBs. They didn't mention how they award SB to users who use Swagbucks browser. The user only needs to adopt the habit of using Swagbucks browser to earn money. You can also do this by adding an extension to popular browsers such as Google Chrome, FireFox, and others. Make it your default browser so you don't need to switch from other browsers every time. This way your earning potential from Swagbucks increases robustly.
Earn Cash Watching Videos
Swagbucks has created an innovative business model. They earn money from other market players and transfer a portion of that money to its users. Indeed, the user can earn money from Swagbucks by watching videos using this platform. This is one of the easiest ways of earning money. They offer almost 1SB to 4SB's for watching a short video clip from categories such as health, music, politics entertainment and more.
Earn Money Playing Games
The user can also earn decent money by playing games through their platform. If you like to play games than Swagbucks is a perfect place for you. They support several types of games such as Solitaire, Bejeweled, Bingo, Trivial Pursuit, Wheel of Fortune, Tetris and so on. If you don't like to play games, you can ask your children or little brother and sisters to play games on this platform.
Deal Hunting
The platform allows its users to earn money while looking for various types of deals. The user can earn money by signing up deals listed on Swagbucks platform.  These deals include Hulu subscription, Blue Apron or other services.
Save Money When Dining Out
Dining out is expensive for the majority of people. Even if you afford to dine out regularly with friends and family, you are suggested to save as much as you can. The best way to save money is to use Swagbucks supported restaurant. It supports more 1000 restaurant across the United States. The user does not require to present coupon or any other thing. You only need to pay bill using the credit card that you have attached with Swagbucks local.
Referrals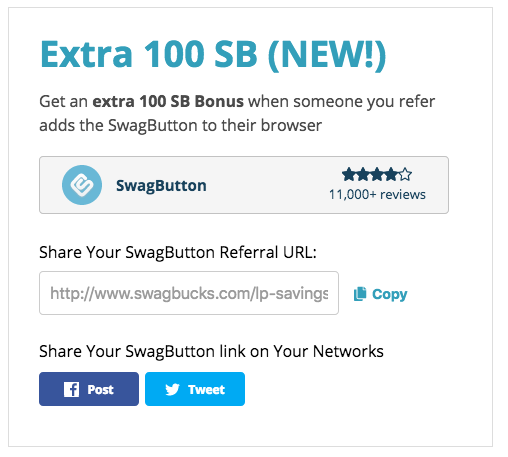 The user can also earn money from Swagbucks by referring this platform to your friends and family members. Make sure to use a referral link when inviting a friend or any other person. Your friend or a family member needs to sign up and use this platform to complete the referral process. You are entitled to earn 10% cash back on every purchase they made using this platform.
Buy GiftCard
This is one of the easiest ways of earning money from Swagbucks. When you buy Swagbucks gift cards, you are eligible to earn cash back on every purchase you made. For instance, when you plan to make a purchase from a grocery store, you are suggested to buy a gift card. You will earn SB on buying a gift card. In addition, you are also eligible to get cash backs when you use that card in a grocery store.
What countries are Accepted on Swagbucks?
Unlike robo advisors, lending platforms and P2P investment firms, Swagbucks accepts clients outside of the United States. They accept clients from the following countries
India
United States
United Kingdom
Australia
Germany
Ireland
Canada.
Clients outside these countries are not eligible to earn money from this platform.
What is the Procedure of Cashing out Earnings from Swagbucks?
It's really easy to cash out earnings from Swagbucks. The user can cast out earnings in the following ways:
The user is eligible to redeem SBs for gift cards – which the user can use anywhere.
The user can also receive actual cash by withdrawing money with PayPal.
The user can expect to receive $1 for 100 SBs. There are, however, times when certain gift cards will go on sale and you can get more cash value using fewer SBs.
Is Swagbucks Customer Support Good?
Millions of users have been using Swagbucks. Therefore, due to a higher amount of queries, the response time is quite slow. They usually respond to queries within three business days. The user is only eligible to contact the support team through email. The live chat feature is missing – which is the easiest way of communicating with the platform. The users are also not eligible to contact the support team through a phone call.
How Swagbucks Make Money?
Swagbucks does not charge any fee or commission to its users. The withdrawal is also free. The platform takes a commission from various types of companies, organizations, stores, restaurants and other players who advertise their products on Swagbucks platform. They take a fee from survey companies for conducting a survey. In fact, it shares that money with its users in the form of bonuses, cash-backs, and SBs.
Is Swagbucks Safe?
Yes, Swagbucks is safe. This is because of its extensive history and strong recognition. They have been serving millions of peoples over the years. User's reviews on independent platforms such as TrustPilot indicates the authenticity of this platform. They also do not charge any fee and they don't require users to add funds into Swagbucks account. Indeed, the user will earn money.
Swagbucks Review 2018 – Verdict
Swagbucks is one of the well-known platforms for saving and earning money on shopping without changing the lifestyle. They offer welcome bonus and rewards on every dollar you spend using their platform. Receiving money for watching a video, playing games and browsing are one of the easiest ways of earning money. The user can easily withdraw earnings in various forms including real cash. Its services are available in several countries; the platform is seeking to expand the services in more countries.
FAQ
How much money the user can make on Swagbucks?
How the users can redeem Swagbucks
How long does it take to redeem Swagbucks
Paid Surveys – A-Z Directory