Trim Review 2021 – Digital Savings Platform
Saving, spending, and planning for retirement look so easy with the arrival of online digital solutions.
Indeed, these online platforms are helping in getting out of the debt. They have gained popularity over the past couple of years amid their automated saving service, goal-based savings and robust withdrawal methods. They allow users to withdraw money anytime from saving account without losing any perks. This is quite rare in the case of traditional financial institutions. These traditional financial institutions don't offer perks and interest if you withdraw money from savings account before the specified time.
Choosing the right savings platform is essential to achieve your financial goals. This is because these platforms are using different algorithm techniques for withdrawing money from your checking account. In addition to savings, features like bill negotiators, retirement plans and interest rate are worth considering before selecting any platform.
To help you with that, we review Trim, which is an emerging digital online saving platform. This platform also helps users in saving money for retirement and other goals.
Trim has saved more than $20 million for its users by automatically taking care of their day-to-day finances.
What is Trim?
Trim is an online financial health company. It is working on the strategy of solving financial issues of peoples and helping them in achieving their financial goals. The platform seeks to help its user getting out of debt, saving enough money for an emergency, saving enough money to retire and enhancing the current financial situation. This platform is totally online. You can use this platform both through web and mobile app.
With the help of artificial intelligence, the platform tracks your financial transactions automatically and they will notify you about the ways of saving money. This platform fully automates your savings, which is making it easier for the user to cut back on unnecessary expenses and meet those difficult saving goals.
What are the Pros and Cons of Trim?
Trim Pros:
✅Stop unwanted subscriptions
✅Negotiates lower bills
✅Text-based communication
✅It charges only if they successfully save your money
Trim Cons:
❌ Limited budgeting capabilities
❌ Bill negotiation feature is available for cable and internet providers
How Trim Works?
Trim works like a personal finance assistant. It helps you in negotiating your bills and reducing unnecessary expenses to start saving more money. They only charge you fees when they help you in saving money. In fact, it helps you in saving money in unique ways that you never thought before. They have developed a user-friendly app and a simple dashboard to use which lets users to easily review their spending information, upload bills to be negotiated, analyze shopping trends, update notifications, and review other alerts.
This saving platform was established in 2015 to help its users in canceling unwanted subscriptions. This is because consumers spend millions of dollars every year on these unwanted subscriptions. Its artificial intelligence program automatically detects these types of subscriptions. The platform now turned into a saving tool which helps in achieving financial goals.
After the signup, Trim tracks all the financial transactions. It will also look for your spending and income pattern. The platform analyzes subscription services, late fees, credit card finance charges, auto-payments, and so much more. They offer bill negotiating service. The platform will help you in saving money on phone, cable, and internet bills while keeping the same great service and plan. Below are the key features of Trim:
Helping them cancel unwanted subscriptions
Negotiating the price of internet, cable, and phone bills
Making personalized financial product recommendations
Analyzing and reporting spending patterns to help users track their money habits.
Indeed, they will also look at your insurance services and lets you know if there is anything cheap out there. Trim offer budget and several other enticing features. The platform is safe because it holds investor's funds in a separate account. They are also very serious about the security of your information. They use bank-level security with 256-bit SSL encryption.
What is the Account Creation Process of Trim?
Unlike robo advisors and P2P investment platforms, the signup process of saving platforms is much easier. They don't require documents and other personal information. They only ask you to link your bank accounts. They will analyze your financial statement to create a saving plan and budget for you.
The signup process for Trim is extremely simple. They don't charge any fee for the signup. You need to visit their website to create an account. The signup button is placed at the top right of the home page. Once you click on the signup button, the platform will ask you to provide email address and password. The user can also log in with their Facebook details.
Once you are done with sign up, the platform will start communicating with you. They will ask you to select the communication method. You have to choose either Facebook Messenger or SMS messaging for this necessary feature. After that, the platform will ask you to link the bank account and credit card details. They use these details to analyze your financial transactions to figure out saving potential.
Their service is free for basic use. However, they will charge you when they help you in saving real money, particularly after successful bill negotiation.
What Products and Features Trim Offers?
Unwanted Subscriptions
Trim initially started operating as a tool which stops unwanted paid subscription service. This happens frequently with users all over the world. There are several types of memberships that we activate but we don't fully use them. These memberships include TV streaming services, Amazon memberships, gym membership, and many other online memberships.
These subscriptions quietly eat a lot of money. Some of them are expensive and some of them are pretty cheap. This is particularly true when canceling any subscription involves calling a support team.
Canceling these subscriptions could easily add a lot of money in the saving account. For instance, you have subscribed Netflix subscription for $8 a month but you don't often use that service. These $8 means you are paying $96 a year. Although this is not life-changing money, it's a lot to pay for something you're not using.
Trim helps users in canceling unwanted subscriptions by scanning credit card and bank account details. They will send you a text message to let you know about these subscriptions. Once you approved the cancellation, Trim will automatically cancel that subscription for you.
Bill Negotiator
Along with eliminating unwanted subscriptions, the platform also works with you to reduce your bills. They will negotiate the price you pay for internet, phone, and cable services. They will only ask you to provide the service provider name and phone number. Once you provided all the information, Trim will contact your service provider to negotiate a lower rate. The platform claims to save up to 30% in the process. This service is really valuable for those individuals who don't have enough time to visit offices of internet, phone, and cable services providers.
This service is available for all the internet, phone, or cable providers in the United States.
Updates on Your Spending Habits
Trim works like a financial assistant. They keep a close eye on your income and expenses. They give you spending information through text. This helps you in understanding where you are wasting money. They also give you a notice when you are spending more than you generally do. These updates are really important when it comes to saving money for a specific goal. Avoiding unnecessary spending habits could result in big savings on an annual basis.
Trim Budgeting
Unlike other saving platforms, Trim also offers a free budgeting feature to users. The budget has significant importance because it tells you how much you earn and how much money you have to spend over the specific time. This feature makes it possible for staying on track toward your saving goals. When you sign up, the platform will analyze your financial situation and provide you a suggested budget. The user is also eligible to create their own budgets.
Trim always update your budget by constantly analyzing your, bills, spending information and financial transactions.
The platform will provide you regular updates and the user will also receive personalized suggestions when not meeting budgeting goals.
Saving Account
The saving account is one of the best features of Trim. The platform offers an interest rate of 1.8% on saving money in the Trim saving account. Indeed, the platform can automatically make small withdrawals from your checking account to save money. It also helps users in saving money for reaching a specific goal such as large purchases, retirement, emergencies, or just a rainy day.
The account creation process is the same. If you already have a Trim account, you don't need to create a new one. You only need to link your checking account and set your financial goals. The platform will automatically make small withdrawals.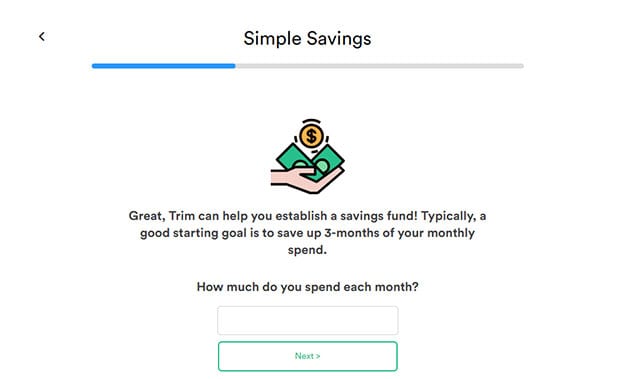 Trim permit account holders to withdraw money from this account anytime. This feature is not available when it comes to saving in traditional financial institutions. Below are withdrawal maximums:
Daily – $1,000
Weekly – $4,000
Monthly – $10,000
Yearly  – $30,000.
Withdrawals are free of cost. The user can expect to receive the funds within three business days. The platform charges a fee of $2 per month for holding money in the saving account.
Sponsored Personal Financial Product Recommendations
Trim offers alternative products that cost you less than what you are currently using.  It generates revenue by recommending products and services to its customers. This is also the perfect way for Trim to generate revenue. It's always good to have a well-connected app that frequently offers products that help its users in saving money. The generally offer information about bank accounts, credit cards, and other financial services.
Debt Erasing
Trim works closely with its users. The platform helps in erasing credit card and other debts. If you set debt as your goal, the platform will automatically save money for this purpose. They make small withdrawals from your bank account every week to help you in paying your installments. Trim's Debt Payoff program helps you in three different ways:
APR assistance – The platform works both with you and your bank to negotiate your interest rates.
Debt calculator – Its AI calculator analyzes your debts and provides an optimal payoff plan to minimize interest.
Financial coach – You have unlimited access to our financial planners via email and text to navigate your debt journey.
The platform offers human financial planner to help you out with setting the credit card debt, student loan debt, mortgage, auto loan, personal loan and tax debt. The user can also ask other questions such as how they can build an emergency fund. The platform charges $10 per month when you use debt payoff service with a 90-day money-back guarantee.
What Countries are Accepted on Trim?
Trim only accepts clients from the United States. They don't allow clients from other parts of the world due to regulatory restrictions and limited resources. Every U.S. citizen with a valid Social Security number can enjoy the service of this innovative platform. They accept clients from all U.S. states. Below are the few states out of the big list that are accepted on this platform:
Alabama
Alaska
Arizona
California
Colorado
Delaware
Hawaii
Idaho
Utah
Virginia
Wisconsin
Wyoming
Illinois
Kansas
Louisiana
Mississippi
Missouri
Nevada
North Dakota
Ohio
Oklahoma
Rhode Island
Tennessee
Texas
What is Fee Structure of Trim?
The platform has set different pricing for each product. The basic account is free. The user can see the budget and eligible to get recommendations from the platform regarding saving and spending. However, they charge $2 per month for holding money in the saving account. The Debt Payoff account holders are likely to pay $10 per month. The platform also charges a fee if they successfully reduce your bills. They charge 33% of the amount that you save after successful negotiation with internet, cable and other service providers. The account opening and withdrawal of funds is free.
What About Trim Customer Support Team?
Trim believes in customer-centric strategies. They seek to solve customers' issues. They have developed an extensive frequently asked question segment. They tried to answer several general questions related to products and account setup. They also permit users to contact the support team through email. They generally respond to queries within three business days.
Is Trim Safe?
Yes, the platform is safe. This is due to several factors. The platform holds users money in a separate bank account which is insured by FDIC.
They use bank-level security to protect the user's information. They use 256-bit SSL encryption to keep your personal and financial information completely safe.
Trim uses a secure program called Plaid to connect its platform with more than 15,000 financial institutions. Plaid helps Trim in the authentication of bank details and other information. They also use two-factor authentication for the safety of the account.
Trim Review 2019 – Verdict
Trim appears like a solid platform for saving money and reducing unnecessary expenses. The platform erases all the unwanted subscriptions after analyzing bank and credit card details. Their free budgeting feature tracks your spending and income to help you in staying within your budget. The platform offers 1.85% interest on holding money in its saving account. They also make automatic withdrawals on a weekly basis to increase your savings. The user is eligible to set saving goals. Its enticing debt payoff feature helps in erasing the debt without making a big change in the lifestyle.
FAQ:
Is Trim free?

Trim is free for basic use. The service is free for the following features:
Access to a dashboard
Subscription cancellations
Bill reminders
Savings suggestions
However, they charge a fee for bill negotiation service, debt payoff, and the savings account.

Why does Trim ask to connect to Facebook account?

The platform suggests its users connect their Trim account to Facebook. This is because Facebook is the most immediate and reliable way to keep you updated.

In the case you don't want to connect through Facebook, the platform suggests you provide a phone number for instant chat.

How to change the phone number or email address?

The platform does not allow users to change the phone number and email address. Therefore, make sure to provide a valid phone number and email address.

However, if you wish to change that information, you should delete your existing account and create a new account.

How to delete Trim account?

It's always good to delete an account when you no longer plan to use it. Below is the procedure:

Log in to your account at https://go.asktrim.com/

Open the menu by clicking the three lines in the top right corner and select "Settings"

On the Settings page that opens, you will see a green bar right under the heading – click on "Account" (all the way to the right).

Click the red button that says "Cancel My Account."

What if Bill Negotiation fails in saving money?

Sometimes it happens that bill negotiator fails in generating desired results. The platform only charges a small fee when they save money. Therefore, when they fail to reduce bills, they will not charge you any fee.

How to find savings details?

The savings are visible on the Bill Negotiation page.

Do Trim offer rewards on a savings account?

Yes, Trim offers a 1.85% annual interest rate to users who hold their money in the account.

Does debt payoff affect credit score?

The debt payoff feature does not impact the credit score.